News & Tips
•
Oct. 29, 2021, 8:06 p.m.
• 171
The Official* All-Time Best Movies To Watch Pre-Race
All runners know the feeling. It's the night before a big race. Your training has gone well, the vibes are right, the work is just about all complete... all you need to do now is lay low, spend very little energy, and get ready to race!
As I see it, there's basically just two things you can do during this 'lay low' time...
• Scroll your profile and review your training insights in the free Trackster app. Seeing proof of all of your hard work and training will get surely you hyped up and ready to run!
OR
•Watch a movie!
For any runner flipping thru Netflix or browsing the internet for a pre-race recommendation, here are my picks for the all-time top pre-race movies to watch...
→ The only rule: movie must somehow be related to XC, track or running!
Honorable Mentions
McFarland, USA

While I truly appreciate the attention from a main stream, disney movie studio towards cross country, I'm just simply not a huge fan of this movie. I feel like it's a bit over the top with the 'feels' and not totally true to the culture of high school distance training. It's a solid choice to have before a race no doubt and definitely deserves to be at least mentioned on any list like this.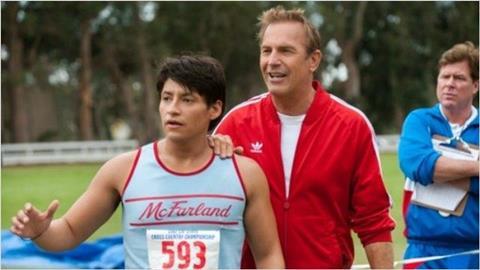 Juno

This movie is not at all based on running and may even be considered inappropriate to some high school audiences. But, it's an iconic american story and has Michael Cera wearing short-shorts and running track in high school. I'm 1000% confident that any runner is in full support of Cera's representation of the running world in such a critically acclaimed film. Thx for your service, Michael
21 Jump Street

Definitely not a running movie but again just has Jonah Hill running track in an all-time hilarious movie scene...
THE MAIN LIST
4. Desert Runners
Rent for $3.99 on Amazon Prime Video
This movie was nominated for, and even won a handful of, indie film awards, including top prize of Best of the Edinburgh International Film Festival.
The premise of Desert Runners is simple - non-professional trail runner athletes aim to run 1000 km in 4 different deserts on 4 different continents.
The film follows runners as they journey across all types of terrain including Egyptian sand deserts and Antartica freezing straights. Dehydration, injuries, and unpredictable wilderness related chaos are constant plot points in this one. It's an extraordinary movie and the characters are actual real people.
Maybe the only downside of this one is that you may feel completely exhausted simply after watching it ...!
3. The Long Green Line
Upon graduating from high school and going to Boston to continue my collegiate career, I quickly learned that not every runner knew about Joe Newton. As a competing school in the same XC conference as Newton's York HS, I was well aware of the elite coaching credentials of Joe Newton.
It's because of this knowledge of Coach Newton's excellence that, in hindsight, I feel incredibly lucky to have been an athlete in the West Suburban Conference in Illinois. Even in just a small way, I feel grateful to have competed against the iconic Joe Newton.
As coach of the York Dukes in Elmhurst, IL, Newton lead his mens team to 44 total state trophies (top 3) and 28 state championships (in 3A or the equivalent largest division). The Long Green Line documentary is a fantastic peek into the world of the best cross country program in the country. In high school, varsity York athletes often logged well over 100 miles / week, including some 130+ weeks in the summers in their prime.
Newton elevated the sport of XC/TF and demanded a higher level of excellence from his team than any other program in the country. Newton sadly passed away recently at the age of 88. Without a doubt he's made one of the biggest impacts on any sport at any level of any coach ever...!! Watch this movie and you'll see what the most hardcore cross country program of all time truly looks like.
2. Kick Drum Hearts
Okay - hear me out on this one. Kick Drum Hearts is an incredible movie but probably the least well-known on this list. To be clear, I'm pretty biased, as this is a documentary created by a family-friend of mine during his final senior XC season in 2011. Another reason I love this movie is that the soundtrack almost exclusively consists of Avett Brother's deep cuts, which the creator of the film, Luke Porst, turned me onto around this same time.
It should also be noted that, now, in 2021, the Avett Brother's are a wildly popular folk (and increasingly rock) band that even got a documentary of their own come-up, created by a one Judd Apatow. All this to say that Luke was well before his time in his usage of the Avett Brothers. The movie also gets it's namesake from the Avett Brother's 7th track on their album I and Love and You, Kick Drum Hearts, produced by Rick Rubin.
The movie itself follows a team throughout their XC season; more specifically, the Mariemount Warriors, a small area public high school in suburban Cincinatti, as they chase their dream of qualifying for the state meet as a team for what would only be the second time in school history.
The team has essentially no business making it to the state cross country meet and, historically, this team is much more focused on the 'fun' experience of cross country and a lot less on being serious about performance and competition. Their coach is an extremely lovable leader but admits that he had literally no distance running athletic or coaching experience before taking over the job.
The season of this documentary, though, the team fully 'buys in' and commits to being the best runners they can be - no matter what the surrounding expectations are. This is a must-watch for any pre-race xc dinner or party!!
1. Kipchoge: The Last Milestone
For anyone who somehow is not aware, Eliud Kipchoge has recently solidified himself as one of the all-time great distance runners in human history - with many fans claiming he's indeed in sole possession GOAT status. In recent years, Kipchoge won the Olympic marathons in 2016 and 2020 and is the world record holder in the official 26.2 marathon distance with a time of 2:01:39.
Not only has Eliud achieved a blistering running career as a pro in the 5k, 10k and marathon distances, but he also owns history.
On 12 October 2019, Kipchoge ran the marathon distance at a [special > event](https://en.wikipedia.org/wiki/Ineos_1:59_Challenge "Ineos 1:59 > Challenge") in Vienna, Austria, achieving a time of > 1:59:40.[[6]](https://en.wikipedia.org/wiki/Eliud_Kipchoge#cite_note-6) > The run did not count as a new marathon record, as standard > competition rules for pacing and fluids were not followed and it was > not an open event.
This movie is unbelievable. It follows Eliud and the surrounding storylines as he attempts to break 2:00 for the first time in human history. The cinematography, production and quality of story-telling is nothing short of inspiring. It's truly a profound work and can be more than enjoyed by all types of audience members - not just runners. This probably no surprise to anyone in the running world as Eliud is a fascinating, friendly and wonderful athlete. What's awesome is that a running centered production actually got he support of big-time Hollywood folks, as The Last Milestone is executive produced by legendary filmmaker Ridley Scott's film group.
You honestly should be careful watching this one before trying to go to bed - it's probably best right before workout or extremely epic long run. It's fuel for doing great things!